Vorige week verscheen de studie 'Tegenkracht organiseren: lessen uit de kredietcrisis' (Raad voor Maatschappelijke ontwikkeling 2012).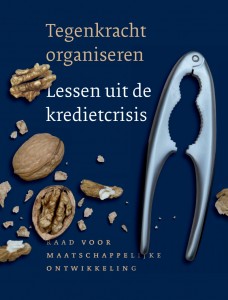 Kernpatroon: niet uniek voor kredietcrisis

De studie gaat op zoek naar het kernpatroon dat ten grondslag ligt aan het ontstaan van de kredietcrisis. Verder is de stelling dat dit kernpatroon niet uniek is voor de kredietcrisis en de financiële sector. Sterker nog, het is niet alleen voorbehouden aan de commerciële sector, we zien het ook terug in de publieke sector. De studie illustreert dit met voorbeelden uit de zorg en het onderwijs.
Kernpatroon: abstractie
Het kernpatroon dat het RMO heeft ontdekt bestaat uit 3 stappen. Het begint met een probleem of een uitdaging. Iets moet bijvoorbeeld goedkoper of sneller worden. In de zoektocht naar oplossingen wordt de werkelijkheid dan hanteerbaar gemaakt door te denken vanuit een versimpelde weergave van die werkelijkheid. Dat is stap 1, we maken een model of sjabloon van de werkelijkheid. Dit is de stap van de abstractie.
Om een probleem op te lossen ga je terug naar de kern, je laat zaken sommige zaken weg en vergroot andere zaken juist uit. Op deze manier ontstaan doelstellingen als – maximaal rendement voor de aandeelhouder, – minimale kosten per patiënt, – een zo hoog mogelijke gemiddelde cito-score voor de school etc.
Op zich is hier niets mis mee. Het maakt de complexe werkelijkheid hanteerbaar. Het gaat fout als vergeten wordt dat het maar om een model gaat, om een benadering van de werkelijkheid. Als er vergeten wordt wat ook alweer het echte probleem was waar het model de oplossing voor zou bieden.
Kernpatroon: domineren
Stap 2 in het patroon is dat in de nieuwe wereld van het abstractie model één belang gaat domineren. Zoetjesaan komt de oorspronkelijke doelstelling steeds meer op de achtergrond. Het middel wordt zoetjes aan een doel. De paradox is dat de werkelijkheid zich naar het model gaat zetten. Blijkbaar is de cito-score belangrijk, want daar word ik op afgerekend als docent, dan zal ik ook zorgen dat mijn leerlingen een hoge cito-score krijgen. Deelnemers aan dit spel gaan strategisch gedrag vertonen, gaan hun gedrag aanpassen aan het abstracte model. Mensen die het spel goed spelen worden beloond, mensen die zich verzetten worden afgestraft.
Kernpatroon: escaleren
Stap 3 in het patroon is dat er versterkende effecten optreden: zij die het spel het best spelen worden op dominantere posities gezet, zij die het spel niet goed spelen haken af en vertrekken. Er ontstaat een versterkende 'bias', er is sprake van zelfselectie. Uiteindelijk ontstaat een spel en een setting van deelnemers die uitblinken in het sturen van de werkelijkheid naar het vereenvoudigde model dat afziet van de oorspronkelijke gelaagdheid. De studie spreekt hier van een negatieve 'reflexitiviteit': systemen en mensen gaan op elkaar reageren (groupthink), het systeem gaat met zichzelf op de loop, er ontstaan perverse en averechtse effecten. Dit gaat door tot het systeem uit zijn voegen barst, ontploft, er zich een ramp voordoet etc. Dit is stap 3 van het uit de bocht vliegen, de stap van de escalatie.
Abstraheren-domineren-escaleren
Het patroon is dus – abstaheren, – domineren, – escaleren. Gevolg van het patroon is dat de systeemwereld het geleidelijk overneemt van de leefwereld.
Sterk van de studie is dat er geen schuldigen worden aangewezen. De studie neemt afstand en gaat op zoek naar het patroon. Oplossingen voor het aanvankelijk geformuleerde probleem worden vanuit goede intenties bedacht. Als er veel geld naar het onderwijs gaat en we verwachten er meer van, dan is het niet raar om de prestaties te gaan meten en volgen. Over zo'n cito-score is goed nagedacht. Zo'n score heeft zijn nut maar natuurlijk ook zijn beperkingen. Als het hele systeem zich gaat richten naar maximale cito-scores dan ontstaan negatieve en ongewenste bijeffecten. Het is ook menselijk dat we ons gedrag aanpassen aan de nieuwe werkelijkheid. We willen immers overleven in het systeem. En zo gaat survival of the fittest over in surviving of the fitting (niet de meest geschikte overleeft maar diegene die het best past). Dat de studie niet oordeelt door schuldigen aan te wijzen betekent overigens niet dat er geen schuldigen zijn. Diploma-fraude is begrijpelijk als systeem-effect maar kent natuurlijk wel een schuldige.
Oplossingen
Ook geloofwaardig van de studie is dat er geen simpele oplossingen worden geboden (ook wel weer jammer natuurlijk). Want wat kunnen we doen om verdere schade of herhaling te voorkomen? De studie stelt dat deze systeemeffecten er nu eenmaal bij horen, ze kunnen niet helemaal worden voorkomen.
De oplossing om grotere schade te voorkomen:
Erkennen dat de werkelijkheid complex is. Erkennen dat er altijd meerdere belangen rond een probleem spelen. Breng de belangen in kaart en spreek er openlijk over hoe alle belangen zo goed mogelijk kunnen worden bediend.
Erkennen dat elke oplossing weer nieuwe problemen met zich meebrengt. Erkennen dat elke afspraak, elk systeem, elke spelregel tot een nieuwe dynamiek en werkelijkheid leidt die weer nieuwe (en ongewenste) bijeffecten genereert. De oplossing is, zoals deze studie doet, van afstand kijken naar het systeem en je afvragen: wat gebeurt hier nu eigenlijk, is dit wat we willen? Het visualiseren van de patronen geeft vaak weer nieuwe inzichten (en is in feite een vorm van interventie en het begin van verandering).
Tenslotte, en daar hebben we de titel van de studie, organiseer tegenkrachten. Haal andersdenkenden binnen je organisatie, luister naar kritische geluiden, geef gelegenheid tot het uiten van klachten, richt een procedure in dat de klachten op een goede plek terecht komen en serieus worden behandeld, organiseer toezicht, koester ondernemingsraden, cliëntenraden, burger-raden en zo verder.
Rudy van Stratum