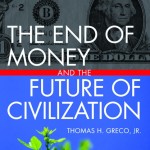 Een aantal weken gelden zijn we in het kader van slimme financiering op het thema van alternatieve geldsystemen gekomen. Ik zei al eerder dat dit een hele nieuwe wereld is, ook voor ons. Maar ondanks de overvloed aan informatie, is er ook veel kaf tussen het koren. Na wat speurwerk heb ik besloten eens te starten met een recent werk van Thomas Greco. Greco is iemand die als sinds de jaren 80 op dit thema zit en inmiddels een van de bekendste namen op het gebied is. Ik neem een recent werk van hem als uitgangspunt voor verdere discussies over en afbakeningen van het thema alternatieve geldsystemen.
Ik heb besloten uitvoerig op dit boek in te gaan. Inclusief een uitgebreide inleiding van mezelf betekent dat een serie van een aantal blogs die op elkaar voortborduren. Ik weet nog niet hoeveel blogs ik nodig heb maar ik zal ze netjes nummeren en er komt er om de 1-2 weken eentje bij.
Voordat ik op de inhoud van Thomas Greco 'The end of money' (2009) in ga, is het handig eerst een economisch-theoretisch kader neer te zetten. Misschien een lange inleiding, maar het voorkomt misverstanden en later bij de bespreking van Greco bespaart het ook weer tijd.
Eén enkel persoon: Robinson Crusoë
De arbeidsbeslissing
Voor de duidelijkheid vind ik het handig helemaal terug te gaan naar de kern van de economie. Stel er is maar 1 persoon op de wereld (en dat is dus de metafoor van Robinson Crusoë op het onbewoonde eiland), hoe ziet het plaatje er dan uit? Robinson heeft eigenlijk twee dingen tot zijn beschikking: tijd en een eiland met spullen om zich heen. Die spullen, laten we zeggen noten, liggen op het eiland maar om ze op te kunnen eten moet hij moeite doen, hij moet de noten oprapen en openmaken voordat hij ze kan eten. In wezen is hier het economische vraagstuk: hoeveel van mijn (vrije) tijd moet ik opofferen om tot een bevredigende consumptie te komen? Afhankelijk van hoeveel moeite het hem kost de noten te vinden en open te maken (in economisch jargon: de productiefunctie) enerzijds en hoeveel honger hij heeft en hoe lui hij is (zijn voorkeur voor consumptie en vrije tijd, in economisch jargon: de nutsfunctie) anderzijds, bepaalt hij de optimale hoeveelheid arbeid die hij naar de 'markt' brengt. Zijn 'reële loon' is nu in feite hoeveel noten hij krijgt voor een uur of een dag arbeid.
De spaarbeslissing
Ik ging er in het voorbeeld van uit dat de noten elke periode (een dag of een jaar) op het strand of de bossen vallen en niet kunnen worden bewaard. Ze zijn aan het eind van de periode dus niet meer eetbaar. We breiden het model nu uit met de vooronderstelling dat de noten langer goed blijven. Nu krijgt het economische vraagstuk een tweede dimensie. Eerst was er alleen de vraag hoeveel ga ik werken, nu stelt zich ook de vraag: hoeveel ga ik nu consumeren en hoeveel later. Met andere woorden: hoeveel ga ik sparen? Robinson kan besluiten nu extra veel noten te gaan sprokkelen (dus minder vrije tijd te genieten) en maar een deel van die noten direct op te eten. Het restant van de noten kan hij dan de volgende periode opeten met als beloning dat hij dan meer vrije tijd heeft. Als elke periode er hetzelfde uitziet, dan heeft sparen niet zo veel zin. Sparen heeft zin als Robinson nu bijvoorbeeld sterk is maar in de toekomst misschien ziek wordt. Sparen kan ook zin hebben als Robinson verwacht dat de oogst dit jaar goed is maar de komende jaren minder zou kunnen zijn. Afhankelijk van hoe Robinson de toekomst inschat zal hij besluiten nu meer of minder te gaan werken en meer of minder te consumeren. Het resultaat is dat hij noten apart legt (spaart) om in de toekomst verzekerd te zijn van consumptie zonder dat hij er dan voor hoeft te werken. Van rente op sparen is hier uiteraard geen sprake. Hooguit van een negatieve rente als de noten toch elk jaar aan licht verval onderhevig zijn, als ze elk jaar minder energie bevatten of gewoon minder lekker worden. Dus ook bij een negatieve rente kan het zinvol zijn te sparen. In dat geval dwingen de onzekere omstandigheden en de barre omgeving Robinson ertoe te sparen.
wordt vervolgd
Rudy van Stratum