Kijk op ketens (2009) van Jan Grijpink en Marijn Plomp (red)
Het ketenlandschap van Nederland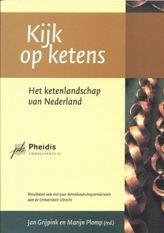 Jan Grijpink is sinds Maart 2004 bijzonder hoogleraar Informatiekunde aan de Faculteit
Betawetenschappen van de Universiteit Utrecht met als leeropdracht Keteninformatisering in de Rechtstaat. Daar heeft hij de laatste jaren op geheel eigen wijze een theorie over de samenwerking in ketens ontwikkeld. Ik had al eerder kennis gemaakt met zijn gedachtengoed maar de eerlijkheid gebiedt te zeggen dat zijn werk voor een relatieve buitenstaander minder toegankelijk is. Het boek 'Kijk op ketens', dat vorig jaar in eigen beheer is verschenen, brengt daar nu verandering in. Voor het eerst staan alle elementen van zijn werk bij elkaar in een handboek en wordt de theorie toegepast op een aantal praktijksituaties.
Achtergrond
Waarom is het werk van Grijpink en zijn studenten interessant? Omdat het gaat over de grootschalige toepassing van informatie- en communicatietechnologie waar veel partijen en veel geld mee gemoeid is. Grootschalige toepassing van ict in ketens levert zelden tot nooit op wat men er van verwacht. Hoe komt het dat de resultaten zo teleurstellend zijn en
hoe zorgen we ervoor dat de inspanningen wel de gewenste effecten hebben? En om de verwachtingen maar meteen te temperen: Grijpink geeft geen opsomming van handige tips en trucs waardoor we onze dure ict-projecten wat op kunnen poetsen. Hier geen makkelijke pasklare recepten. De analyse is eerder complex en in mijn ogen ook onconventioneel.
En de uitkomst zal voor veel betrokkenen teleurstellend zijn: grootschalige ict-projecten in ketens van samenwerkende partijen zijn logischerwijs meestal gedoemd te mislukken. De oplossing ligt in enerzijds de focus leggen op kleinere delen van de keten waar wel voortgang valt te verwachten, en het wegmanagen van onrealistische verwachtingen anderzijds.
Misschien geen boodschap die snel zal aanslaan, wel een boodschap die in actualiteit alleen maar zal toenemen. Onze maatschappij wordt steeds complexer en internationaler. Meer partijen zijn noodgedwongen van elkaar afhankelijk en zullen hun acties op elkaar moeten afstemmen. De gevolgen van verkeerde beslissingen lijken hiermee ook alleen maar groter te worden. ICT neemt ondertussen een steeds belangrijkere plek in. ICT koppelt partijen en transacties snel en transparant aan elkaar. De recente kredietcrisis lijkt een logisch gevolg van deze mogelijk giftige mix aan ingrediënten: meer partijen, meer onderlinge vervlechting, snellere acties en reacties, koppeling door complexe ict-systemen, geen sturing vanuit het grotere geheel of de keten maar sturing alleen vanuit de individuele belangen. Of de kredietcrisis overigens een actueel maatschappelijk probleem is waar je de inzichten van de keteninformatisering van Grijpink op toe kan passen was voor mij wel een leidende vraag bij het lezen van het boek maar meteen een vraag waarop ik het antwoord nog niet helemaal heb gevonden.
Visie
Wat is een keten in dit verband? Een keten is een samenwerking van een groot aantal autonome partijen in de publieke, semi-publieke en private sector die samen maatschappelijke producten en diensten moeten opleveren. Niemand van de partijen is
de baas, niemand kan een ander zijn of haar wil opleggen, elke partij is in wezen autonoom.
Deze samenwerking kost veel tijd en geld en beperkt de autonomie van de deelnemende organisaties. De visie nu is dat samenwerking alleen loont als het inleveren van die autonomie voldoende oplevert voor de betreffende partij. Grijpink keert de redenering
daarom om: het dominante ketenprobleem is de baas en definieert de ketensamenwerking. Samenwerking komt vooral tot stand rond een probleem dat alle ketenpartners gezamenlijk moeten oplossen om niet in opspraak te komen.
Op het niveau van een keten doen zich andere krachtenvelden voor dan in kleinschalige situaties. Om te beginnen is de rationaliteit die je bij individuele partners nog wel ziet op ketenniveau vaak ver te zoeken. Irrationaliteit, tegenwerking en onvoorspelbaarheid zijn troef. In het verlengde hiervan is op ketenniveau en in grootschalige ict-projecten vaak sprake van zogenaamde niveauvergissingen. Een niveauvergissing treedt op als je lessen die je uit kleinschalige situaties hebt geleerd (experimenten, pilots) ineens van
toepassing gaat verklaren op een hoger systeemniveaus (zoals dat van ketens).
Dit verklaart dus het mislukken van grootschalige ict-projecten. Om deze fiasco's te voorkomen komt Grijpink in de kern met twee oplossingen of aanbevelingen. Een: analyseer het probleem en kijk of dat voldoende gewicht in de schaal legt om de partijen in de keten bij elkaar te brengen. Als het probleem onvoldoende zwaar of serieus is dan is samenwerking gedoemd te mislukken. Twee: los alles wat je op het lagere (partijen-) niveau kunt oplossen op dat lagere niveau op en los op het hogere ketenniveau die zaken op die alle partijen aangaan en niet elders kunnen worden belegd. In de analyse van Grijpink wordt gesproken over het grondvlak van de keten (het niveau van de partijen zelf, waar je dus zoveel mogelijk moet oplossen) en over het eigenlijke ketenniveau (de zaken die alle partijen bindt, wat niet op het niveau van het grondvlak kan worden opgelost).
Wellicht ten overvloede: de keten heef nog geen echt probleem als sprake is van te hoge kosten, van een te lage efficiency of van bepaalde wet- en regelgeving die in de weg zit. Dat is allemaal onvoldoende om de ketensamenwerking te laten slagen. Er is pas sprake van
een dominant ketenprobleem (en dus van effectieve samenwerking op dat niveau)
als sprake is van imagoschade voor de keten als geheel, van levensbedreigende of sociaal ondermijnende incidenten, van kans op herhaling, van kans op escalatie, van publieke verontwaardiging of van internationale politieke druk.
Analyse
In mijn beleving ligt de nadruk van het werk van Grijpink op de analysefase en minder op de oplossingsfase. Het gaat eerst en vooral om de goede dingen doen om daarna pas in te kunnen zoomen op de dingen goed doen. Een flink deel van het boek is daarom gewijd aan de analyse van het probleem en de keten. In welke gevallen is het probleem dringend genoeg en welke keten hoort daar dan logischerwijs bij? De grootste winst zit dan in het voorkomen van het opstarten van grootschalige ict-projecten die door hun aard gedoemd zijn te mislukken.
Om de analyse strak te houden werkt Grijpink met een toetsingskader voor de noodzaak en haalbaarheid van gezamenlijke keteninformatisering. Dat toetsingskader bestaat uit vier zogenaamde toetsingsprofielen. Het gaat achtereenvolgens om:
doelprofiel
coordinatieprofiel
informatieprofiel
samenwerkingsprofiel
De eerste drie profielen bepalen in gezamenlijkheid de noodzaak van (keten-) informatisering op het hogere niveau van de keten. NB: ik spreek hier verder kortheidshalve over 'samenwerking' in de keten waar formeel in dit toetsingskader wordt bedoeld: het gezamenlijk opzetten van ketenprojecten en de daarmee beoogde keteninformatiesystemen op het hogere niveau van de gehele keten. De samenwerking in de keten is pas noodzakelijk als alle drie de profielen op 'groen' staan. Het laatste profiel bepaalt vervolgens of de samenwerking ook haalbaar is.
Een korte toelichting omdat een volledige uitwerking van deze profielen hier niet op zijn plaats is. Ik heb ter illustratie een aantal plaatjes uit het boek van Grijpink
toegevoegd. Eerst het algemene stappenplan om de ketenanalyse uit te voeren, daarna voorbeelden van ingevulde toetsingsprofielen. De ingevulde toetsingsprofielen zijn ontleend
aan de 'rampenbestrijdingsketen'. De ketenopgave daarbij is 'het voorkomen van rampen', het dominante ketenprobleem dat sturing aan de keten geeft is 'het voorkomen van
ontoereikende bestrijding door een gebrek aan een totaalbeeld van de samenloop van risico's op een locatie'.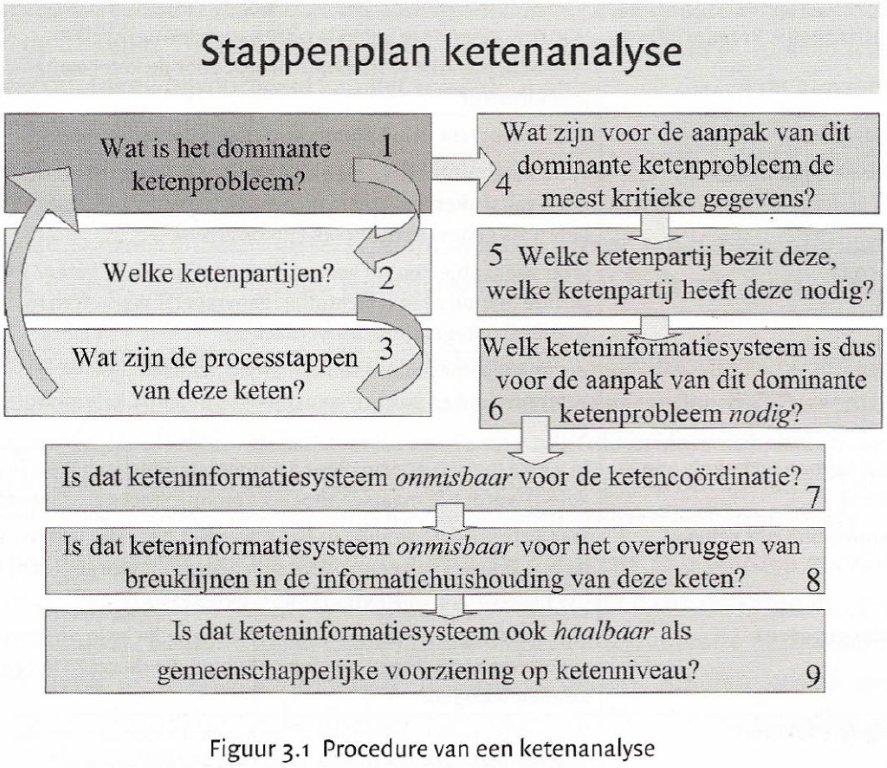 In bovenstaand stappenplan is in 9 stappen beschreven hoe Grijpink een keten te lijf gaat. Stappen 1 tot en met 4 hebben betrekking op het doelprofiel. Stappen 5 en 6 beschouw
ik als een eerste 'tussenconclusie' op basis van het uitgewerkte doelprofiel. Stap 7 bepaalt het coordinatieprofiel en stap 8 het informatieprofiel. Stappen 1-8 bepalen daarmee
de noodzakelijkheid van de samenwerking. Stap 9 tenslotte bepaalt het samenwerkingsprofiel en geeft de haalbaarheid van de samenwerking aan. De samenwerking (nogmaals: in termen van het gezamenlijk opzetten van een grootschalig keteninformatiesysteem) kan pas
succesvol zijn als zowel noodzaak als haalbaarheid is aangetoond.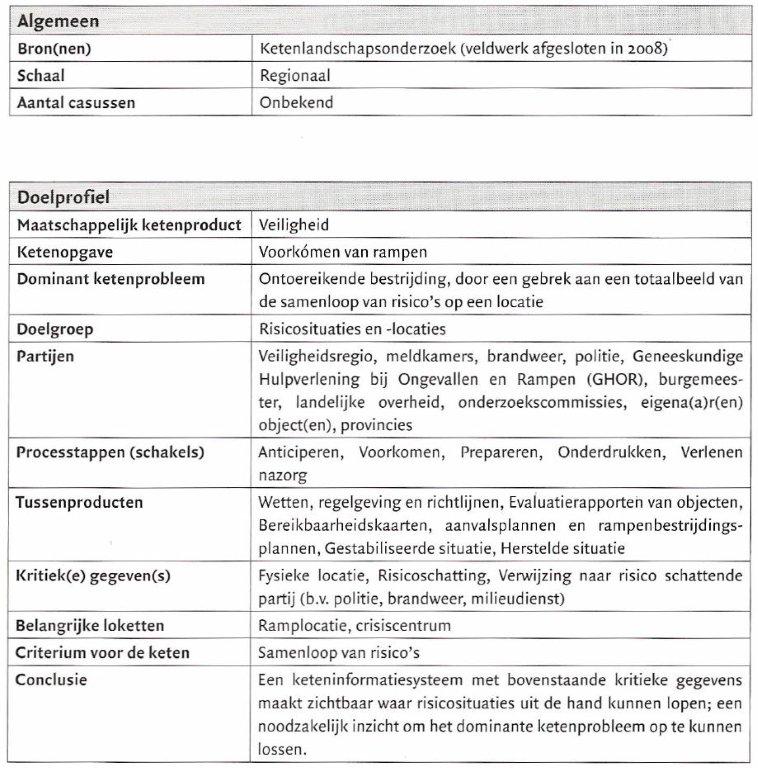 Hierboven is het ingevulde doelprofiel te vinden van de rampenbestrijdingsketen. Op dit moment gaat er blijkbaar nogal eens iets mis bij het bestrijden van rampen. Allerlei partijen
als meldkamers, brandweer en politie komen in actie. Maar blijkbaar ontbreekt het totaalbeeld van de samenloop van risico's op een locatie. Het is duidelijk dat de keten in opspraak komt als het fout gaat. Ook gaat het hier om levensbedreigende situaties met kans op herhaling. Kortom: het doelprofiel komt tot een noodzaak van samenwerking.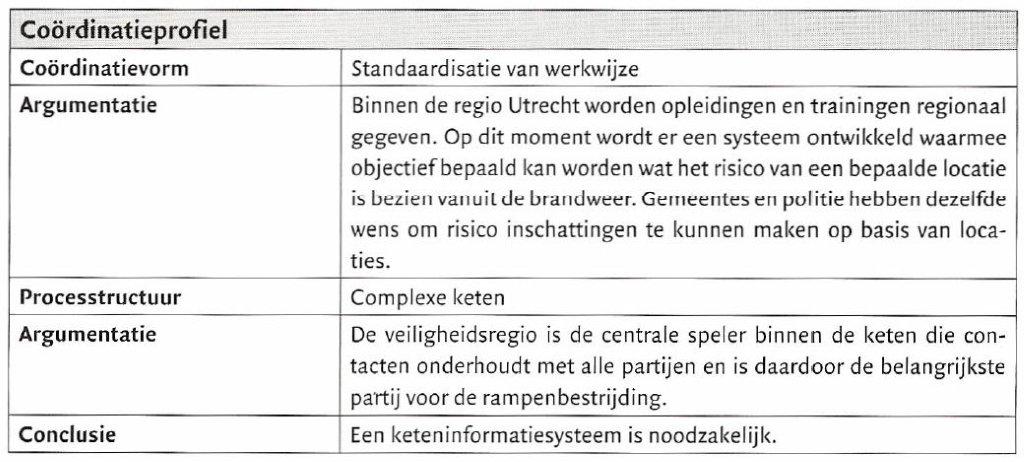 Het coordinatieprofiel stelt vast van welke ketenstructuur sprake is. De vraag is of sprake is van een eenvoudige lineaire keten waar de ene partij gereed is en het stokje dan overgeeft
aan de volgende partij, of dat sprake is van een complexe en simultane interactie van meerdere partijen in de keten. Als sprake is van een lineaire keten dan bepaalt het profiel dat
samenwerking in een keten geen noodzaak is. In het geval van de rampenbestrijding is echter sprake van een complexe keten en dus staat het stoplicht wederom op groen (conclusie in
de tabel: een keteninformatiesysteem is noodzakelijk).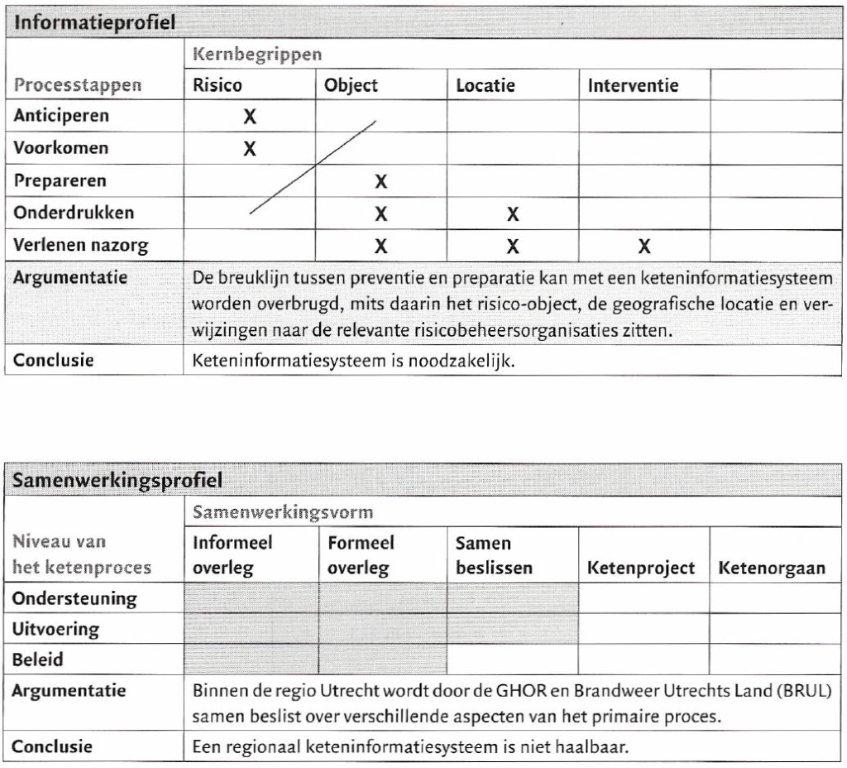 Het informatieprofiel hierboven zet de eerder gevonden processtappen (anticiperen, voorkomen etc) af tegen een aantal kernbegrippen zoals kritieke gegevens en belangrijke loketten van de keten.
Ook nu weer is het zaak om te kijken of er sprake is van een lineaire logica in het overdragen van informatie per stap van het ene naar het andere 'loket'. Als dat het geval is dan geldt:
een gezamenlijk keteninformatiesysteem is niet noodzakelijk. Grijpink voert hier de term 'breuklijn' in. Als sprake is van een breuklijn dan wordt de lineaire overdracht doorbroken en is sprake van complexere informatie-uitwisseling tussen partijen en is een keteninformatiesysteem wel noodzakelijk.
Kijken we naar de rampenbestrijdingsketen (als voorbeeld) en de eerste drie toetsingsprofielen dan is de conclusie dat vergaande samenwerking in de keten noodzakelijk is. Als ieder voor zich met zijn eigen systemen en afspraken blijft werken zal de kans op herhaling van fouten en dus reputatieschade groot blijven.
Maar noodzaak is nog niet voldoende garantie. Samenwerken op dit ketenniveau doe je pas nadat je stappen in die samenwerking hebt gezet van simpel naar meer complex. In het samenwerkingsprofiel is het niveau van de samenwerking (van ondersteunend tot beleidsmatig, van operationeel tot strategisch) afgezet tegen de samenwerkingsvorm (van informeel overleg tot vergaande ketensamenwerking waarbij gezamenlijk beslissingen worden genomen). Het idee hier is dat ondersteunende samenwerking makkelijker is dan beleidsmatige samenwerking (want de autonomie wordt minder aangetast)
en dat informele vormen van samenwerking makkelijker zijn dan formele en belissingsbevoegde vormen van samenwerking. In het profiel worden de cellen waar de keten op dit moment aan voldoet ingekleurd. Een vorm van ketensamenwerking is pas haalbaar als er geen witte cellen zijn tussen de praktijk en de noodzakelijke vorm van (keten-) samenwerking. Helaas volgt uit de analyse van de rampenbestrijdingsketen dat de ketensamenwerking geen haalbare kaart is op korte termijn.
De praktijk
Zoals ik al zei: Grijpink's aanpak betreft vooral de analyse en daarmee is de route die van preventie van onnodige en onhaalbare samenwerking. Het toetsingskader is daarom behoorlijk uitgewerkt en beslaat het grootste deel van het boek. Maar naast het toetsingskader is er ook een sturingskader. Het toetsingskader bepaalt of we de goede dingen doen, het sturingskader bepaalt dat we de dingen goed doen.
Wellicht doe ik de enkele hoofdstukken die over het sturingskader gaan tekort, maar feitelijk komt Grijpink tot een aantal tips in de vorm van:
zorg dat de kritieke informatie uit de keten wordt ingebed in het werkproces
kritieke informatie moet worden gebracht, niet gehaald
de informatiestructuur moet zo kaal mogelijk zijn
gegevens worden na gebruik weggegooid
het werken met de kritieke gegevens mag geen keurslijf vormen voor de ontvanger
doelstellingen van de ketensamenwerking moeten toekomstvast zijn
Het lukt mij als lezer echter niet om concrete uitgewerkte oplossingen voor bestaande maatschappelijke problemen en de daarbij horende ketens te vinden. Misschien is dat voor een boek van papier ook een onmogelijke opgaaf (is dat zo? hoewel het grotendeels
om software, systeem-, protocol-, uitwisselstandaarden- oplossingen gaat, zijn er ook afspraken gemaakt over vergaderfrequenties, notulen, hoe vaak komen we met wie bij elkaar, wie besluit over wat, hoe houden we elkaar daar aan, wat zijn sancties, kortom
allemaal gewone mensendingetjes).
Ik sluit de inhoud van het boek af met een overzicht van een aantal ketens om zo een indruk te geven van waar het ketenlandschap over gaat.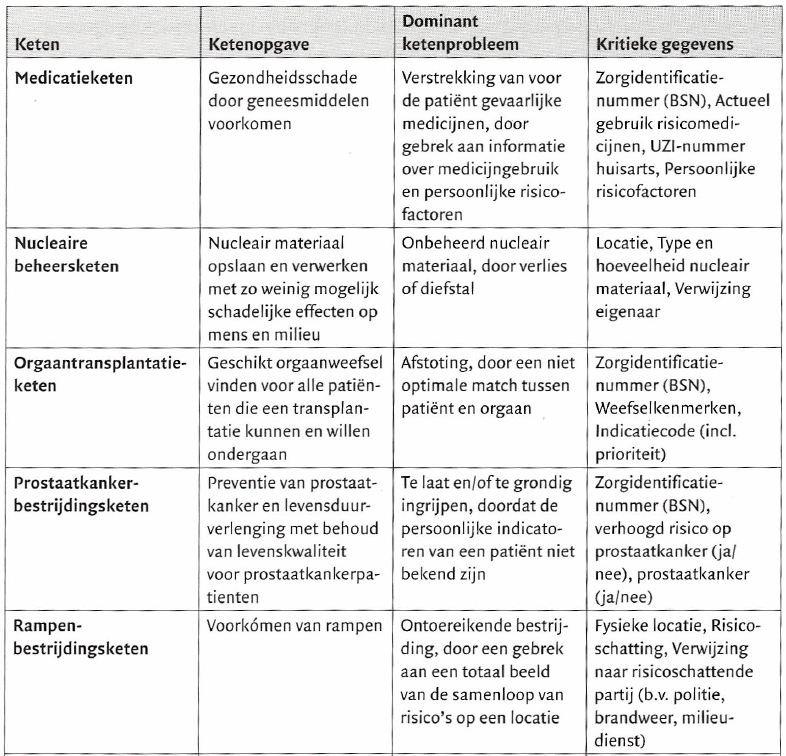 Evaluatie
Eindelijk een boek waarin de materie over de ketenaanpak overzichtelijk bij elkaar staat. De aanpak is innovatief en staat daarmee op eenzame hoogte. De toenemende complexiteit van onze maatschappij en recente crises zullen deze aanpak alleen maar meer actualiteitswaarde geven de komende jaren. Met name het analyse-instrumentarium is behoorlijk ver en diepgaand uitgewerkt en ook is inmiddels een flink aantal studies en onderzoeken beschikbaar die meer zicht geven op het ketenlandschap van Nederland (noot 1).
Maar er zijn ook wat kanttekeningen te plaatsen. Om te beginnen is de aanpak van Grijpink streng tot zeer streng. In nagenoeg alle gevallen blijkt ofwel niet sprake te zijn van een dominant ketenprobleem (waarover hierna meer), ofwel is wel sprake van een dominant probleem maar wordt niet voldaan aan de noodzaak, ofwel er is wel sprake van een dominant ketenprobleem en er is een noodzaak maar uiteindelijk is sprake van onhaalbaarheid.
De aanpak van Grijpink laat daarmee vooral zien hoe lastig het is om op een hoog niveau in de keten een keteninformatiesysteem op te zetten. Het boek is daarmee eerder een
goed onderbouwde waarschuwing om al te snel in ketens iets te willen oplossen dan een 'how-to' aanpak om tot succesvolle ketensamenwerking te komen en problemen
effectief te lijf te gaan. Ongetwijfeld hebben Grijpink en zijn studenten dit bezwaar zelf ook gevoeld en zo heeft hij een paar mensen aan het werk gezet om eens te onderzoeken in hoeverre partijen rijp gemaakt kunnen worden om alsnog tot samenwerking te komen, te onderzoeken in hoeverre bepaalde stappen kunnen worden versneld (door bijvoorbeeld praktijklessen uit de ene sector te 'implanteren' in de andere sector). Helaas laten
de uitkomsten van deze studies zien dat we daar weinig van mogen verwachten.
Als we deze praktijkbeperking even laten voor wat hij is (Grijpink kan er tenslotte ook niets aan doen dat samenwerking in ketens nu eenmaal lastig is), dan het analyse-instrumentarium. Ik heb een enorm respect voor wat hier aan denkwerk bij elkaar is gebracht. Het hele bouwwerk oogt solide en consistent. Het nadeel daarvan is mogelijk wel dat we hier te maken hebben met een complexe en weinig toegankelijk benadering.
Heb niet de illusie als adviseur of beleidsmaker dat je dit 'wel even' doet. Ik zie de veel gevraagde consultancy-firma's van Nederland nog niet zo snel met deze aanpak de boer op gaan: veel te veel werk, veel te duur, veel makkelijker om met een andere verhaaltje je omzet te halen. En hoe is het gesteld met de andere kant van de tafel, met de opdrachtgevers? Zit een opdrachtgever te wachten op een dergelijk genuanceerd verhaal? Gaat hij betalen voor de boodschap dat dit project niet haalbaar is en nooit kan slagen? Dat hij meer bescheiden
en kleine dingen moet doen en dat hij er toch echt 10 jaar voor uit moet trekken om stappen te zetten? We willen toch allemaal in onze 'moments of fame' een paar stoere dingen doen en wat lintjes doorknippen? Dat het allemaal niet lukt is een lastige boodschap en bovendien gaat dat pas blijken als jij met pensioen bent en dan is de wereld weer veranderd. Feitelijk is precies ook hier sprake van een 'onderzoeks-uitvoerings-keten' die zich lastig laat besturen naar meer succesvolle grootschalige projecten. Aardige kost lijkt me voor een volgende afstudeerder.
Terug naar het begin: mag ik mijn intuitie ook laten spreken?
Mij gaat het niet zozeer om een aanpak alswel om oplossingen of zicht daar op. Er zijn veel maatschappelijke vraagstukken waar veel partijen bij betrokken zijn en waar maatschappelijke schade door wordt opgelopen. Hoe pak je zoiets nu aan? Hoe kun je die schade (deels) voorkomen? Waar staat in het veld aan aanpakken of methodieken deze Grijpink-keten problematiek? Hoe zit het als het niet specifiek gaat om informatie als wezenlijk of kritisch element? Wat kunnen we in zijn algemeenheid van deze aanpak overnemen of leren, waar vult het andere inzichten aan, ook als het begrippenkader uitwijst dat strikt genomen niet sprake is van een keten of van een dominant ketenprobleem? Ook had ik tijdens het lezen van dit boek de neiging het veel gebruikte woord 'samenwerking' in de normale dagelijkse betekenis te interpreteren. Strikt genomen lezen we in dit boek niet dat we niet kunnen of mogen samenwerken in ketens maar dat grootschalige keteninformatisering op verklaarbare wijze zelden de gewenste resultaten oplevert. Maar ik wil ook gewoon weten: hoe kunnen we nu zinvol samenwerken in (delen van de) keten, op welke manier dan ook, met of zonder ict, om gemeenschappelijke problemen die maatschappelijke schade veroorzaken tot een oplossing te brengen?
Ik zou graag eens wat vingeroefeningen doen. Ik weet al op voorhand dat ik er niet helemaal uitkom en dat ik er voor een verdere uitwerking anderen bij nodig heb. Ook weet ik al op voorhand dat 'mijn' problemen of voorbeelden niet het toetsingskader van Grijpink zullen doorstaan. Toch stip ik maar een paar willekeurige 'ketenproblemen' aan.
Frisse scholen. Veel scholen zijn slecht gebouwd en kennen een ongezond binnenklimaat. Dit leidt tot slechtere leerprestaties en gezondheidsklachten. Partijen die zijn betrokken bij de huisvesting van basisscholen zijn oa gemeente, ggd, astmafonds, school, architect, installateur. Er lijkt gebrek aan kennis, er is sprake van een verkokerde sector met gevestigde belangen. De keten kan in opspraak komen, er is kans op reputatieschade van gemeenten, van architecten. Het dominante ketenprobleem is om leerlingen een goede leeromgeving te bieden in huisvestelijke zin en/of gezondheidsklachten te minimaliseren. Gebrek aan gezag? Waarschijnlijk kan een gemeente hier dicteren wat er gebouwd moet worden (in theorie althans). Dat ze dat niet of onvoldoende doen is niet 'het' probleem van de keten, dwingt niet tot samenwerking.
Fileproblematiek. Elke dag is sprake van ergernis, van onnodige uitstoot van schadelijke gassen, van onnodige verspilling van schaarse brandstof, van verlies aan productieve uren. Partijen in de 'keten' zijn automobilisten, werkgevers, rijksoverheid, anwb. Kan de keten in opspraak komen? Is sprake van een dominant ketenprobleem? Waarschijnlijk niet. Rondom een thema als rekeningrijden dan? Ik kan het niet overzien. Gebrek aan gezag? De Rijksoverheid (politiek) kan rekeningrijden gewoon invoeren, vervolgens zijn er technische problemen die opgelost moeten worden?
Kredietcrisis. Duidelijk dat het hier om een maatschappelijk probleem gaat. Er is sprake van een flinke reputatieschade van de bankensector, maar ook van financiele schade op grote schaal. Partijen zijn: overheden, banken, burgers/klanten, bedrijven, toezichthoudende instanties. Ketenprobleem: voorkomen dat de stabiliteit van de sector in gevaar komt door onvoldoende inzicht in de risico's en mogelijk gebrek aan vertrouwen. Hier is gebrek aan gezag, zeker in internationale zin. Er zijn toezichthoudende instanties (DNB, AFM) maar niet op internationale schaal.
Ook hier moeten we toch vorderingen maken? Ook al is hier sprake van chaos, onvoorspelbaarheid etc. Anders komt de wetenschappelijke keten in opspraak…
Het boek is te verkrijgen via de site
www.keteninformatisering.nl
Noot 1: Het lijkt er op dat deze aanpak van Grijpink een echt eigen Nederlandse vinding is. Toch is de problematiek bij uitstek internationaal.
Mist deze aanpak dan aansluiting bij een grotere groep internationale onderzoekers? Hoe valt dat te verklaren?